Introduction to the Manufacturer's
In this final report, we will delve deeper into the ExtraEnergy and CBA e-bike industry tour of China, focusing on a few more bike and e-bike manufacturers. Moreover, we will provide you with captivating pictures showcasing the remarkable e-bikes and e-scooters from the China North Bike Show.
Aima
Aima, one of the prominent electric bike manufacturers in China, captivates the market with its exceptional creations. Impressively, they manufactured a staggering 4 million e-bikes just last year! Established in 1999, Aima swiftly ventured into the electric bike realm in 2004, quickly ascending to become one of the leading e-bike brands in China. Additionally, they boast a diverse range of conventional bicycles, catering to various preferences. With a workforce exceeding 7,000 employees, Aima's impact is undeniable.
Remarkably, Aima operates across four production facilities located in Tianjin, Wuxi, Taizhou, and Dongguan. During our visit to their Tianjin facility, we were astounded by its impeccable organization and cleanliness.
Flying Pigeon
China's renowned classic bicycle manufacturer, Flying Pigeon, has a rich heritage dating back to 1936. Undoubtedly, their brand is widely recognized and revered within the industry. Continuing their tradition of excellence, Flying Pigeon consistently delivers top-notch bicycles that stand the test of time.
Tianjin Titanium Frames
Tianjin Titanium Frames mesmerizes bicycle enthusiasts with their exquisitely crafted titanium frames. Their commitment to innovation is exemplified by their ongoing endeavor to develop a titanium mid-drive frame. With their exceptional craftsmanship, Tianjin Titanium Frames sets themselves apart in the industry.
China North Bike Show
The China North Bike Show truly captivated the spectators with its remarkable display of electric bicycles, e-scooters, and electric three-wheelers. Among the fascinating exhibits, we couldn't help but be intrigued by the Honda Uni-Cub mobile office chair, a distinctive addition to the event.
Don't forget to explore the introduction to e-bike factory tours in China, as well as the captivating reports from touring the Giant Bicycles, Golden Wheel, and Yadea e-bike factories, the fascinating insights into three e-bike battery factories, and the comprehensive report on Bafang Motor Company and King Meter display. Each piece offers valuable knowledge and a deeper understanding of the industry's key players.
This is part of the large Aima complex
Within the vast Aima complex, there stands an impressive factory building. This towering structure is just one of the many buildings that make up the Aima complex.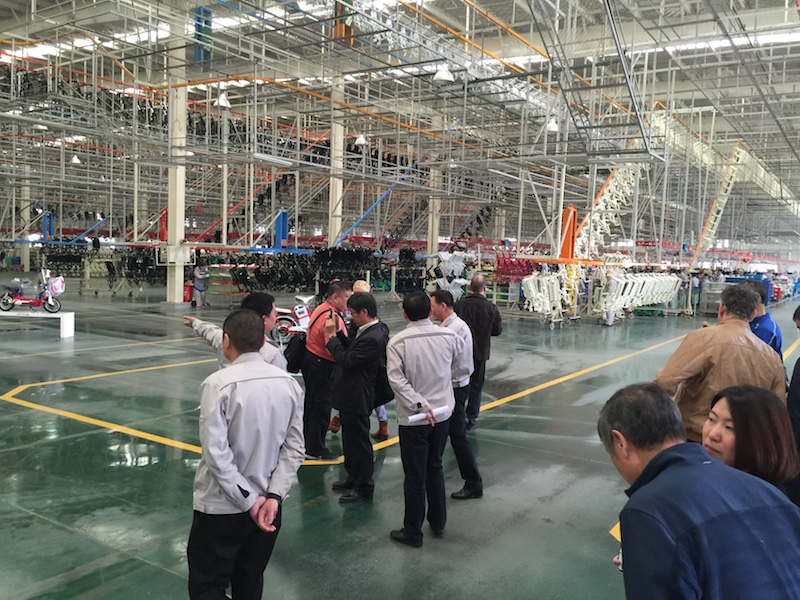 The Aima scooter style e-bikes in their showroom
Step inside the Aima showroom, and you will be greeted by the stunning sight of their scooter style e-bikes. These exemplify the perfect fusion of style and functionality.
Exuding style and elegance
Behold! More of these incredibly stylish scooter style e-bikes await your admiration. Their sleek design and effortless charm captivate all who lay eyes upon them.
The rise of electric bicycles with lithium batteries
Behold the collection of electric bicycles with lithium batteries proudly showcased by Aima. Their presence serves as a testament to the ever-growing popularity of these innovative modes of transportation in China.
A booming market for electric bicycles
Aima's display also hints at the immense market demand for electric bicycles equipped with lithium batteries. These eco-friendly and efficient vehicles have garnered significant attention in China's bustling market.
A marvel of organization and cleanliness
The Aima assembly lines building truly leaves a lasting impression. During our exploration of various factories, Aima's facility stood out with its pristine cleanliness and remarkable organization.
Witness the assembly line in action
Marvel at the intricate system of assembly lines in motion. Frames glide effortlessly along the conveyor system, precisely timed to enter the assembly line when they are fully prepared.
Each side of the assembly line is a flurry of activity, with diligent employees swiftly fulfilling their designated tasks. Together, they ensure the seamless progression of the bikes down the line.
As you gaze upon the foreground, you spot a handful of bikes that have just completed their journey along the assembly line. Beyond them, your eyes behold the multiple assembly lines that fill this remarkable building.
The relentless pace of production
Aima's production prowess is awe-inspiring. Witness their unwavering commitment to crafting quality e-bikes as they churn out a staggering three units per minute in their state-of-the-art facilities!
Flying Pigeon – A Historical Bicycle Company
The ExtraEnergy and CBA tour crew had the pleasure of meeting the Flying Pigeon management at one of their impressive buildings in China.
Flying Pigeon holds a significant place in China's bicycle industry, tracing its roots back to 1936. With a rich history, this company has witnessed the evolution of bicycles in China. In fact, by 2007, they had already produced an astounding 500 million Flying Pigeon bicycles!
Let's dive deeper into the story of Flying Pigeon by exploring an excerpt from Wikipedia's article about Flying Pigeon:
The Flying Pigeon played a pioneering role in the bicycle movement within the People's Republic of China. This two-wheeled vehicle became the government's official means of transportation, leading the nation to be famously known as the "Kingdom of Bicycles" or "zixingche wang guo." A bicycle, along with a sewing machine and a watch, were considered the three essential possessions for every citizen, indicating not only their practicality but also a modest indication of wealth. The Flying Pigeon bicycle, with its reliability and simplicity, emerged as a symbol of an egalitarian society, promising steady transport through the journey of life, even if comfort was a secondary consideration.
During the 1960s and 1970s, the logo of Flying Pigeon became synonymous with bicycles across the entire country. It gained extraordinary popularity, reaching a point where Deng Xiaoping, the leader responsible for China's economic reforms in the post-Mao era, defined prosperity as "a Flying Pigeon in every household."
Although we were unable to explore their factory areas, we had the opportunity to visit their showroom. The displayed bicycles predominantly belonged to the conventional, non-electric category, but Flying Pigeon also offers a commendable selection of electric bicycles.
Flying Pigeon proudly exhibits an impressive collection of their bikes from various bygone years. They have dedicated a wall solely for documenting their prolonged existence and success in the industry.
Now, let us take a closer look at one of their classic bicycles, featuring front suspension and a unique mechanical metal rod braking system, a departure from the typical cable-operated brakes.
This is one of the bikes they had on display, made with a frame constructed using fillet brazed steel. Building this type of frame takes a lot of time because the brazed joints require extensive filing.
A close-up view of the steel tubes, fillet brazed together. The frame has been clear coated to showcase the fillet brazing and the discoloration caused by heating the steel tubes.
Tianjin Titanium Frames
As part of our tour, we also visited the Tianjin Titanium Frame Company.
Titanium frames are considered quite exceptional and are typically only used for high-end, performance-oriented bicycles. These frames are lightweight and offer a "springy" riding experience similar to steel frames, but with the added ability to absorb more shock from the road or trail. Due to the more elaborate construction process, titanium frames are generally more expensive.
Tianjin Titanium shared that they are currently working on a mid-drive titanium frame.
We had the opportunity to explore their showroom floor, which featured a wide range of frames and titanium tubes on display. Unfortunately, we were unable to view their factory.
Here is an example of one of their titanium frames designed for fat bikes.
Titanium frames are also visually appealing! The tubing boasts a beautiful color, and when the welds are done correctly, they appear clean and minimalistic.
This titanium frame exemplified their capacity to offer various finishes and styles.
A Glimpse into the Sturdy Titanium Dropouts
Furthermore, they presented an array of diverse titanium tube shapes. It is truly remarkable to witness the remarkable curves they can incorporate into these tubes.
China North Bike & E-Bike Show
Concluding our tour of the e-bike industry, we had the opportunity to partake in the China North Bike and E-Bike Show. Held in Tianjin, this event primarily caters to the domestic market in China.
Throughout the exhibition, numerous presentations were delivered, focusing on the electric bike and LEV industry.
In this photograph, Hannes Neupert from ExtraEnergy shared insights on the future of e-bike & LEV technology. Additionally, Bosch discussed the integration of their LEV systems with the Internet of Things. Wasilis von Rauch presented his perspective on the future of the electric cargo bike market, while Rüdiger Nierescher introduced the EnergyTube universal battery. Tilmann Künzel showcased the innovative ETTRAK system, which serves as a vending service for EnergyTube. And these are just a few examples of the captivating presentations; there were many more available!
Interesting e-Bikes at the Show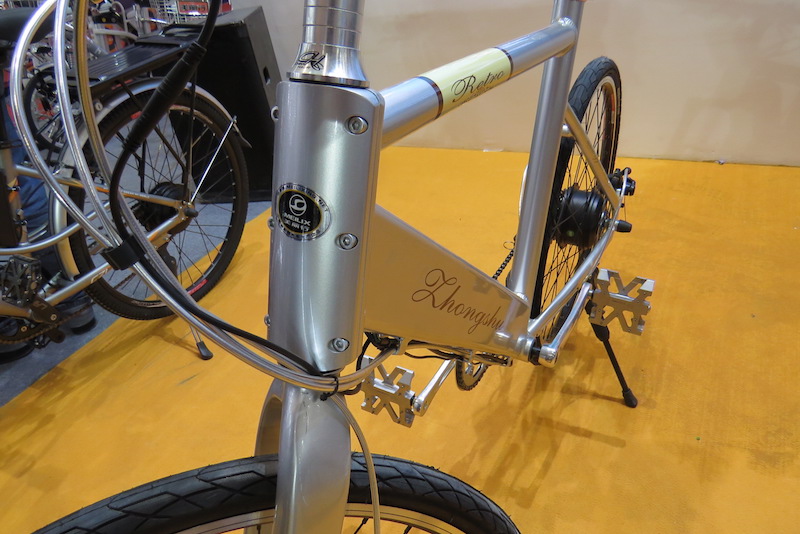 The Integration of Batteries in E-Bikes
The e-bikes showcased at the event had various unique features that caught my attention. Although I don't possess extensive information about these bikes, their designs alone make them intriguing.
One observation I made was that a majority of the e-bikes had their batteries integrated into the downtube of the frame. However, there was one particular bike that stood out as it had a different battery placement approach. Instead of being integrated into the downtube, the battery on this bike was released from the side and rotated out, providing a distinctive feature.
A Step Thru Frame with an Integrated Downtube Pack
Another visually appealing design I encountered was a bike with a step thru frame. What made it even more fascinating was the fact that it included an integrated downtube pack. This configuration not only enhanced the bike's aesthetics but also added to its functionality.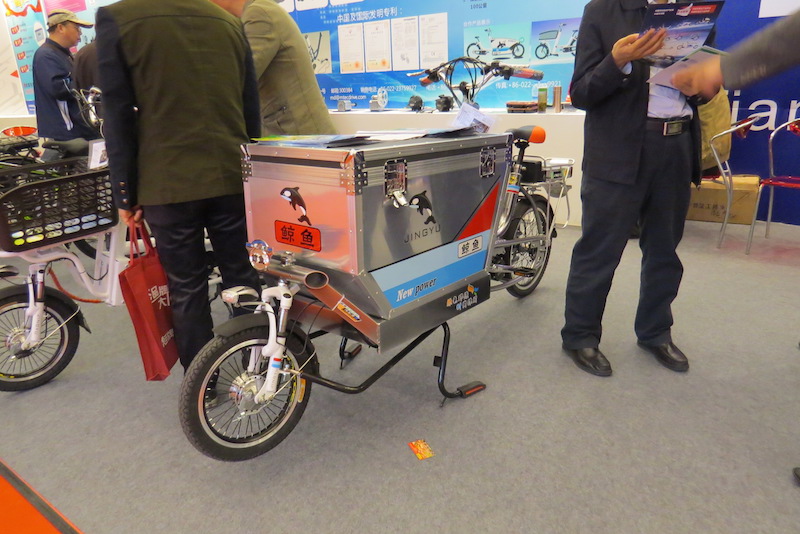 In contrast to the previous bikes, there was one particular model where the battery was removed from the downtube in a slightly different manner. By removing the headtube faceplate and fork, the battery was detached from its position, demonstrating an innovative approach.
A Full Suspension e-MTB with Downtube Battery
Lastly, an e-mountain bike caught my eye with its remarkable full suspension system. This bike not only incorporated a suspension for a smooth ride but also featured a battery housed within the downtube. The combination of these two elements undoubtedly made it an attractive choice for adventurous riders.
In summation, the e-bikes displayed at the show impressed me with their distinct designs and battery placements. The integration of batteries in the downtube proved to be a popular choice, but there were also bikes that ventured into alternative configurations. These e-bikes offer a glimpse into the future of electric transportation, blending style and functionality seamlessly.
Another step through e-bike with battery in the downtube
There were several electric cargo bikes displayed at the event. One of them shared some similarities with the popular Urban Arrow e-cargo bikes.
Another electric cargo bike with a spacious front basket
Of course, there was also a diverse range of electric fat bikes showcased.
An effortlessly rideable step-through e-bike
Interestingly enough, this one looks quite familiar……Specialized Turbo 🙂.
There were numerous scooter-style e-bikes at the exhibition.
More e-scooters were on display as well.
Honda had an intriguing futuristic and somewhat retro-style e-scooter enclosed in a plexiglass box (which explains the poor picture quality).
In addition, Honda showcased a peculiar mobile seat called the Honda Uni-Cub. They even presented a music video to demonstrate its capabilities.
Electric three-wheelers were also popular at the show, including an e-trike with a dump truck back end.
There was also an electric three-wheeler that leaned into corners by tilting the main frame.
That's a Wrap!
I sincerely hope that these updates from the ExtraEnergy and CBA e-bike industry tour have provided you with a closer insight into the Chinese market and industry.
It is truly amazing to witness the widespread usage of electric bikes in China on a daily basis. Moreover, it was fascinating to witness the growing popularity of pedelec-style bikes with lithium batteries in the Chinese market.
Be sure to stay connected for future reports on the Chinese e-bike and LEV market.
Don't miss out on the introduction to the e-bike factory tours in China, the comprehensive report from touring the Giant Bicycles, Golden Wheel, and Yadea e-bike factories, the detailed report from 3 e-bike battery factories, and the insightful report from Bafang Motor Company and King Meter display.
-Pete