This is a guest post from Turbo Bob!
Yes, San Diego is a hot spot for bikes. So of course, it's even hotter for E-bikes. With many E-bike shops here in town, and several of the major E-bike companies headquartered here or nearby in Orange County and Los Angeles, you know they are popular. Ever since my wife and I got our electric-assist bikes almost five years ago, I've been noticing them all over.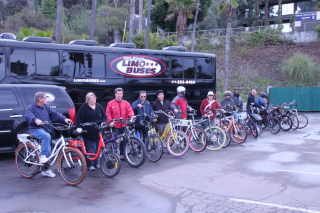 I've been lucky to strike-up friendships with most of the E-bike people (individuals and shops alike) here. We (my wife and I) take our E-bikes on many group rides, even though they are geared for bikes of any kind. We do have a E-bike group that has been organized through the Meet-up pages. This year we decided to plan monthly rides without fail and our first one was last weekend. The previous E-bike group rides were fun, but sporadic.
23 e-bike riders were signed-up for the ride.
The weatherman couldn't decide how our day would go. When the morning came, it was decided to meet for breakfast and ride if the conditions were right. 16 people (men and women) made the trek and found the threat of rain to be minimal. Many different brands of E-bikes were scattered in the parking lot, with four conversions included. One was a BionX converted road bike. One of the local E-bike shops, Pedego Coronado, brought their sales trailer with 4 extra Pedegos for a few riders who didn't own E-bikes or had no way to transport them to the ride.
After breakfast I had everyone line up the fleet for some photos and then Steve gave some group ride instructions on our route and other details.
Exploring San Diego on Electric-Assist Bikes
Before long, a colorful and joyful procession of electric-assist bikes gracefully made their way onto the bustling streets, one-by-one. Our adventure commenced in Mission Valley, with all riders aware of our destination. Together, we embarked on a short journey that involved crossing the freeway and utilizing the underpass. While most of the ride embraced the smooth paved path along the scenic San Diego River.
A Vibrant Assembly of E-Bikes
The gathering of riders showcased an impressive lineup of E-bikes, emanating a cheerful hum as they maneuvered through the city. Our group ride boasted a kaleidoscope of colors, with every hue represented. Among the bikes, the dominating presence belonged to the beloved Pedegos. Many of the riders owned these bikes, while also accompanied by additions from Allan and Shaun of Pedego Coronado. Personally, I found myself astride the exquisite and comfortable IZIP E3 Path, an E-bike that has earned a place in my collection for an extended test ride. Meanwhile, my wife explored the city on our trusty Richen Warrior 20, a full-suspension folding E-bike from a Chinese company keen to establish dealerships in the United States.
The river path we embarked upon was wide and flawlessly maintained. As we pedaled along, we shared the route with fellow cyclists, both heading in similar and opposing directions, as well as leisurely strollers out for a delightful walk. Soon, we veered off the path, embracing the bustling streets of Ocean Beach. Our ultimate destination was a delightful beach market, renowned for its exquisite selection of natural foods. Accompanying our visit was the melodic sound of a captivating four-piece string music group, serenading us with timeless tunes. Additionally, on the market's second floor, we discovered a tempting deli, whose offerings satiated the cravings of numerous riders.
Our significant gathering of bikes adorned the sidewalk in front of the market, serving as a backdrop for lively discussions regarding the unique merits of each model. A curious crowd of passers-by approached, their minds teeming with questions about our electric-powered steeds. Eager to gain insight into the diverse options, several riders even embarked on test rides, acquainting themselves with the distinctive characteristics of various bikes. The murmurs surrounding electric bikes grew louder, fueling the collective excitement within our group. Alas, much sooner than anticipated, we regrouped and prepared ourselves for the return journey. To my surprise, our leader opted for a different route, deviating from the anticipated path along the scenic beach.
As our group continued pedaling along the stunning river path, a natural stratification occurred, spreading us out slightly. Some cyclists sought to challenge the capabilities of their E-bikes, pushing their speed to new limits. Nevertheless, familiarity with the route allowed for a seamless journey. I remained at the back with a more leisurely-paced group, savoring the joys of a relaxed ride back to the breakfast restaurant that served as our starting point. With no sense of urgency, this leisurely pace perfectly suited the needs of both my wife and myself.
Back at the parking lot – A Monthly Adventure
At the parking lot, we all unanimously agreed that the incredible amount of fun we had experienced was something we needed to recreate on a regular basis. And so, the stage is set for an exciting event that will take place every month – the Kilowatt Hour Group E-bike Ride. Despite the occasional light showers that graced our presence on this particular day, the enthusiasm and camaraderie of the group remained unwavering. It's important to note that our club is all-inclusive, and we extend a warm welcome to anyone who wishes to join in on the thrill.
Are you ready to embark on this thrilling journey?
-Turbo Bob.
A Revolutionary Impact
"Few articles ever utilized by humankind have brought about such an enormous transformation in social circumstances."—Fred C. Kelly.
As you revel in the excitement, do not miss out on checking out Turbo Bob's Bicycle Blog!