The E-Bike Camping Adventure
Covering the Essentials
In a previous post, I detailed my exciting e-bike camping journey, where I meticulously packed all the necessary gear to ensure my comfort and convenience. If you missed it, you can catch up on the planning, gear, and other tips here and check out the ride report here.
Choosing the Perfect Companion
For my second thrilling adventure, I opted for the Haibike Sduro Trekking 4.0, a magnificent choice that had all the right specifications on paper. Additionally, I equipped myself with the trusty Radical Design Chubby trailer, which I reviewed here. This fantastic trailer allowed me to carry even more essential items this time around and conveniently folded down for hassle-free train travel.
Exploring Alternatives
While an e-cargo bike would have been ideal for a robust camping excursion like this, it was not a viable option due to UK train regulations, which prohibit their transport. Therefore, I had to seek alternative means for this particular trip.
Enhanced Comfort and New Additions
In my quest for ultimate relaxation, my plan included a delightful three-night getaway with my brother. We aimed to surpass the creature comforts from our previous escapade. With a significantly larger tent, the capability to prepare basic meals, and the convenience of solar-powered LED lighting and charging using the remarkable HUBi 2K from Solar technology, our camping experience was bound to be extraordinary.
A Journey to the Peak District National Park
This time, our desired destination was the ever-popular Peak District National Park, extending our adventure further afield. The train played a pivotal role in our journey, allowing us to transport a whopping 40kg of equipment on the bike and trailer. Thanks to this, we could reach the campsite effortlessly within a reasonable riding distance.
Traveling Light with Nano Power
In contrast to my robust setup, my brother opted for a more streamlined approach, relying on the lightweight Nano-powered folder, which proved its worth despite its lower power output.
The Initial Test Run
I had the opportunity to test out Freeparable's T2 trailer on previous trips, and I decided to give it a go on a trial run near my home. I loaded it up with approximately 33kg of gear – 22.5kg on the trailer itself, including a tent and food supplies, and 10.5kg in my Vaude pannier setup for extra clothing, cooking equipment, and electronics, along with more food.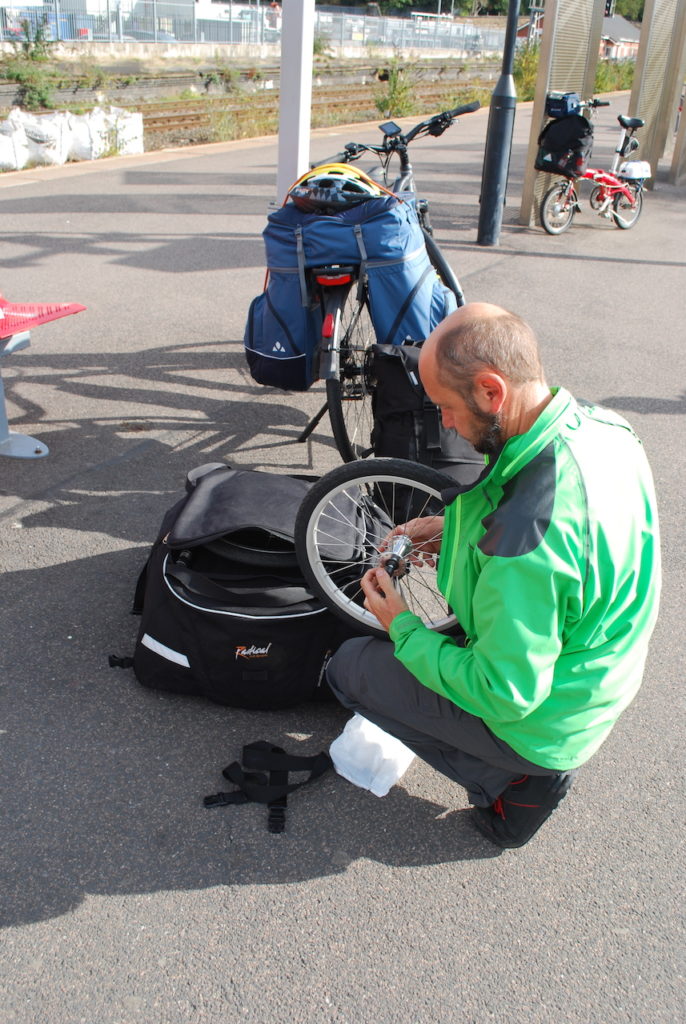 After comparing it to my Chubby Brompton trailer, I ultimately chose the latter. It was much easier to attach to my Haibike, thanks to its rear frame design. The T2, on the other hand, required a very specific angle to mount and could handle more weight, but wasn't as suitable for train travel when it came to dismounting.
Since I was embarking on a fixed base trip and only needed to navigate roads and wide tracks with the trailer, I didn't require the T2's impressive ability to handle rough off-road terrain, including singletrack trails and access barriers. This time, it wasn't necessary.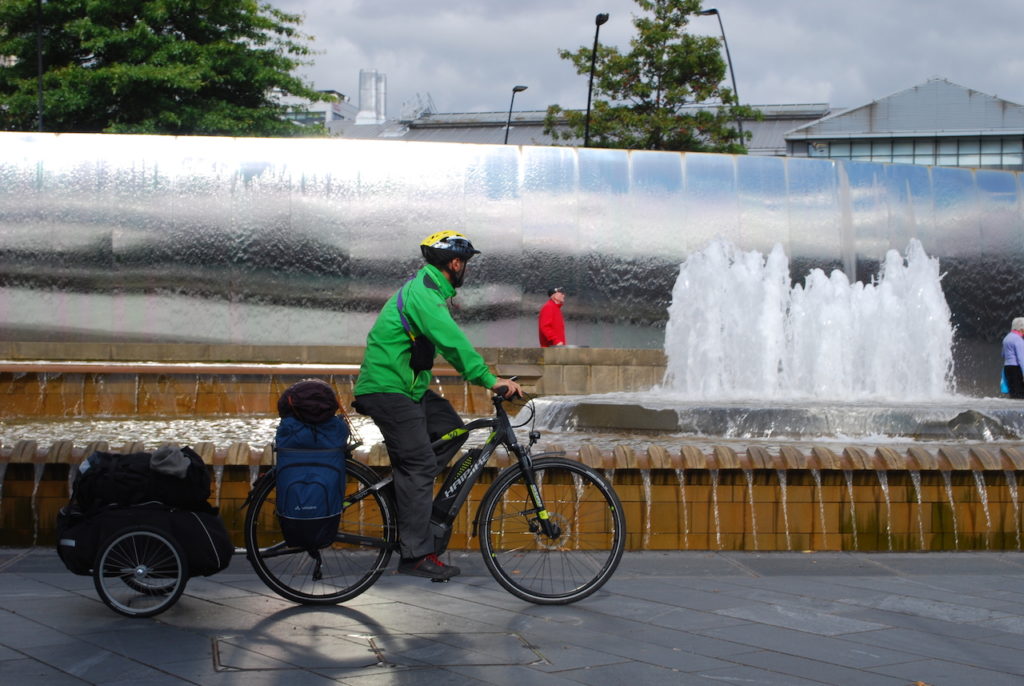 Getting There
During my pre-ride map planning, I came across a new and enticing route from the bustling city of Sheffield to our chosen base in Bamford, a quaint village located in the scenic White Peak area of the National Park. It's a great region for trail enthusiasts.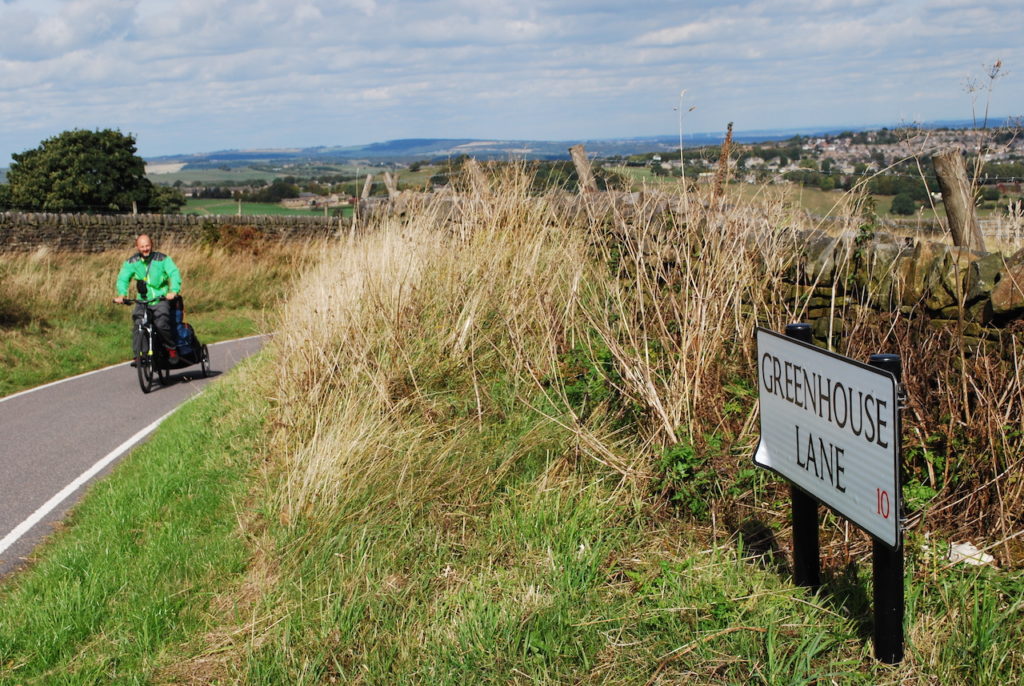 The plan was for me to explore some of the more challenging bridleways, although not the most extreme ones, while my brother would explore a network of easier, family-friendly rides that spanned the valley bottoms and sides, as well as the beautiful Victorian reservoirs.
Upon arriving at the train platform, I swiftly detached the Chubby wheels and towbar, storing them neatly in the trailer's top compartment. The midday local service to Sheffield provided ample designated storage space for our three large bags and two e-bikes.
Sheffield, once a city known for its steel production, has successfully transformed itself into a vibrant university town and a hub for cultural and sporting attractions. These days, it boasts an appealing city center, as we discovered during our ride through its bustling streets.
Peak District Adventure: A Bike Journey Through Spectacular Scenery
Perhaps best of all, our journey to the Peak National Park is flawlessly guided from the station all the way to our destination. This is quite an extraordinary occurrence for a cycle route in the UK.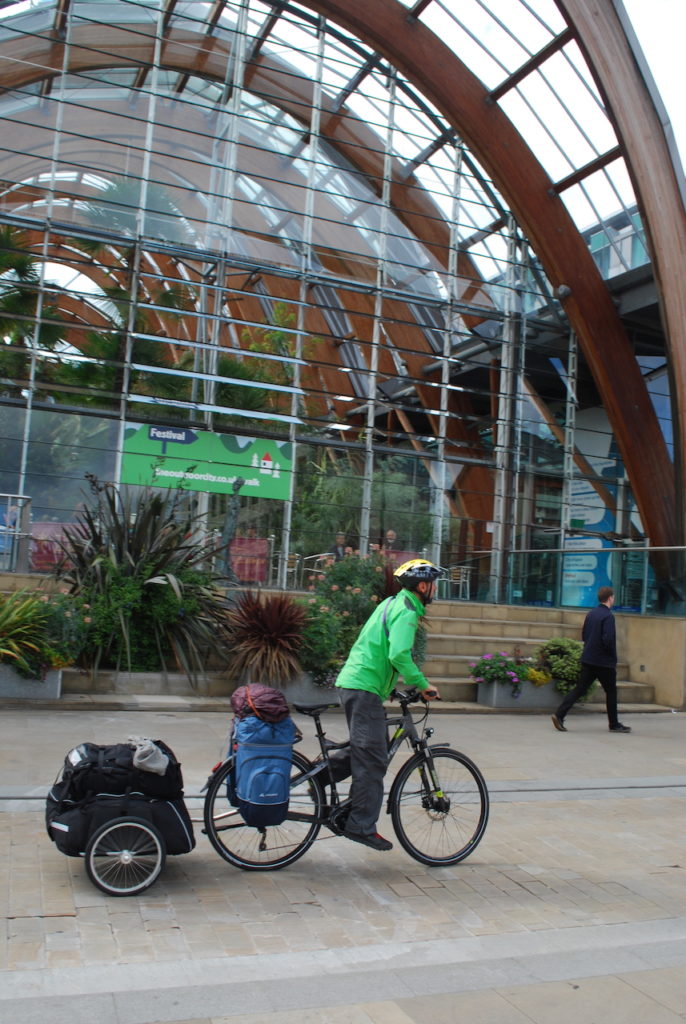 A Smooth Ride with the Vaude Karakorum Pannier Set
With the bulk of the weight effortlessly towed in the trailer and lighter items stored in the Vaude Karakorum pannier set, I was pleasantly surprised to discover that the additional load has minimal impact on handling, regardless of the diverse terrains encountered.
Effortless Handling and Stability
The remarkable universal joint utilized by Radical as a hitch ensures that the significant weight in the trailer is completely disconnected from the bike's handling during cornering. Additionally, the thoughtfully designed trailer keeps the weight low and the wide wheelbase significantly reduces the risk of tipping.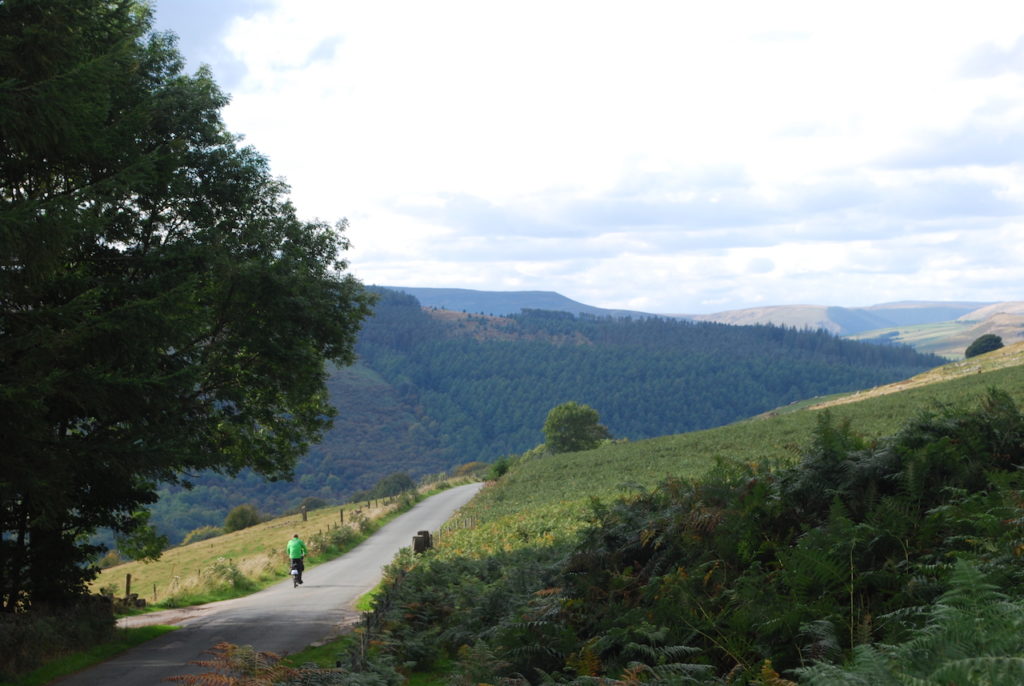 Conquering Steep Hills with Ease
With such a weight on board and challenging uphill sections to tackle, the e-bike truly shines, effortlessly conquering sustained gradients and headwinds alike. Its incredible torque at low cadence, thanks to the Haibike's Yamaha motor, allows for seamless navigation, capturing stunning photos, or simply immersing oneself in the breathtaking views.
A Journey into Nature's Playground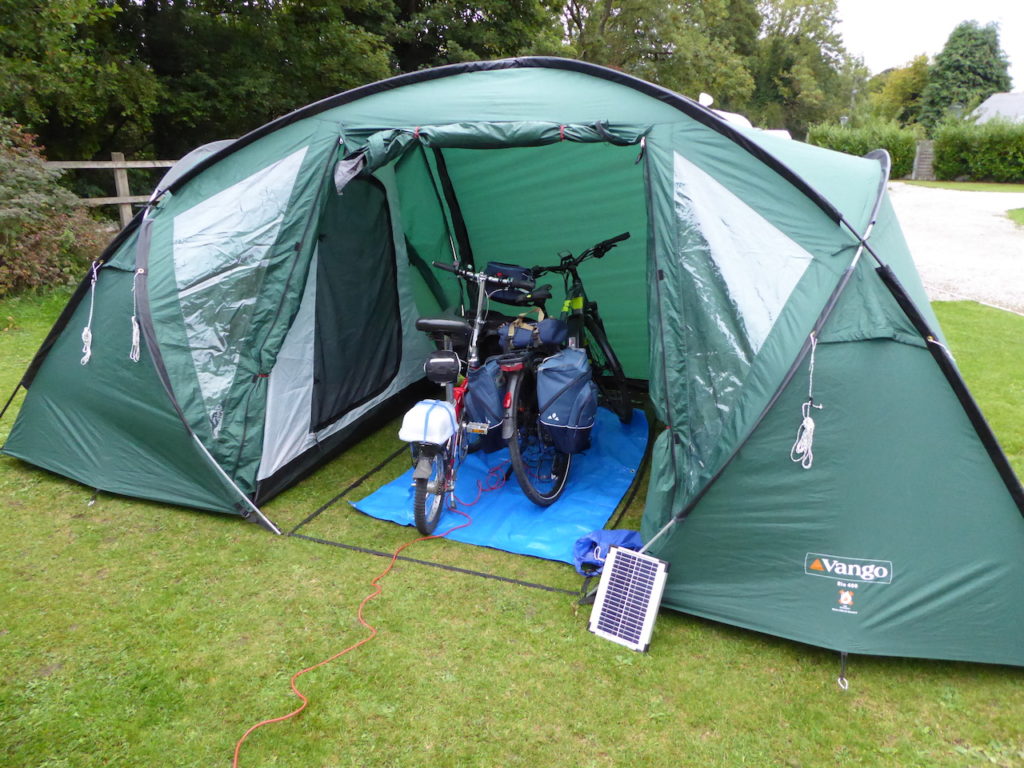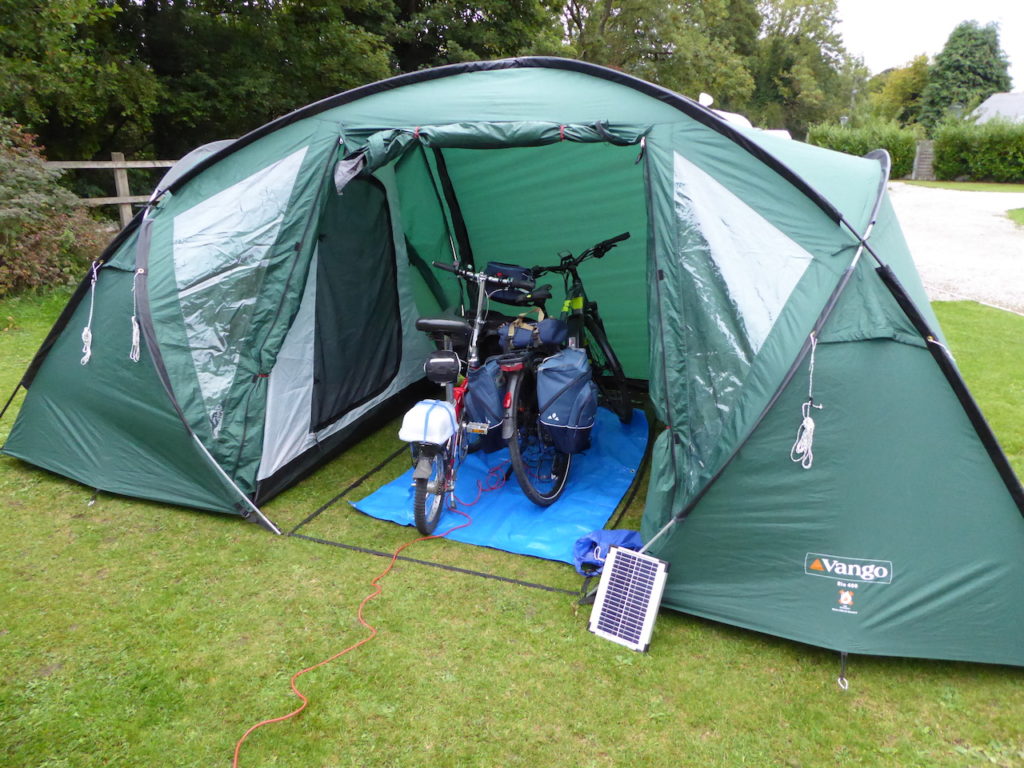 After exploring the vibrant city attractions, including the captivating Winter and Botanical Gardens, our route introduces us to the picturesque countryside on the outskirts of the city, where Whiteley Woods in the Porter Valley awaits.
An Oasis of Serenity and Refreshment
Navigating a small ford and an undulating earth track, we stumble upon a delightful coffee break haven at Forge Dam cafe. Energized and ready, we embark on the real ascent, traversing minor roads as the scenery progressively transforms into a magnificent display, ultimately culminating in an awe-inspiring approach to Bamford, boasting unforgettable vistas of the majestic Peak District.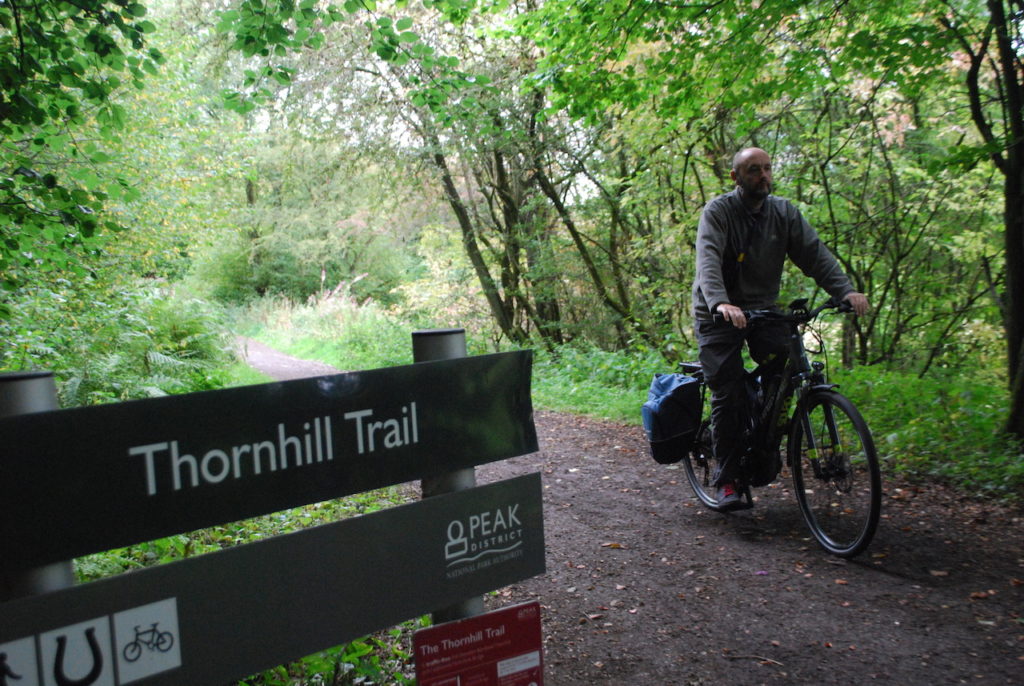 The Peak is a popular destination, attracting approximately 9 million visitors each year. It is the third most visited National Park in the UK, after the Lake District and the Yorkshire Dales.
As we settle into our tent and prepare a cup of coffee on the stove, we feel a sense of accomplishment. We've brought enough gear to rival many of the other campers who arrived in large motor vehicles.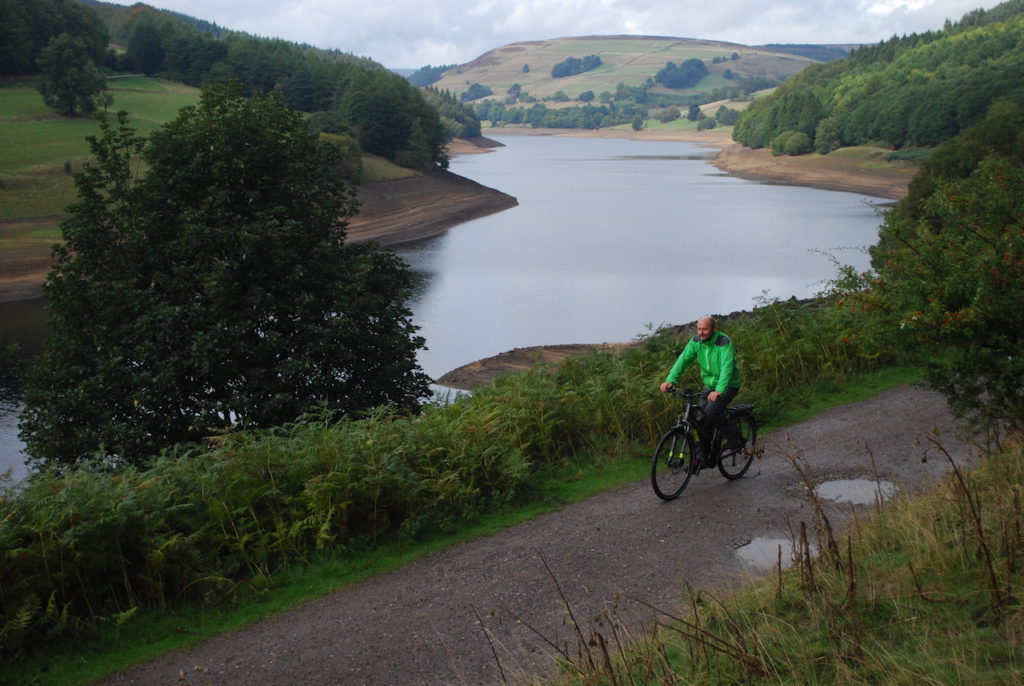 Exploring the Trails
On the first day, we head north along the Thornhill trail. Conveniently, our Swallowholme campsite is just a short ride away from the trail, mostly on quiet lanes.
Passing by Ladybower reservoir, I leave my brother to enjoy the easier route around the reservoir while I take on a challenging bridleway ascent. At the top, I'm rewarded with a breathtaking view of the northern end of Ladybower Reservoir. As the weather turns wet, a mountain shelter provides much-needed respite.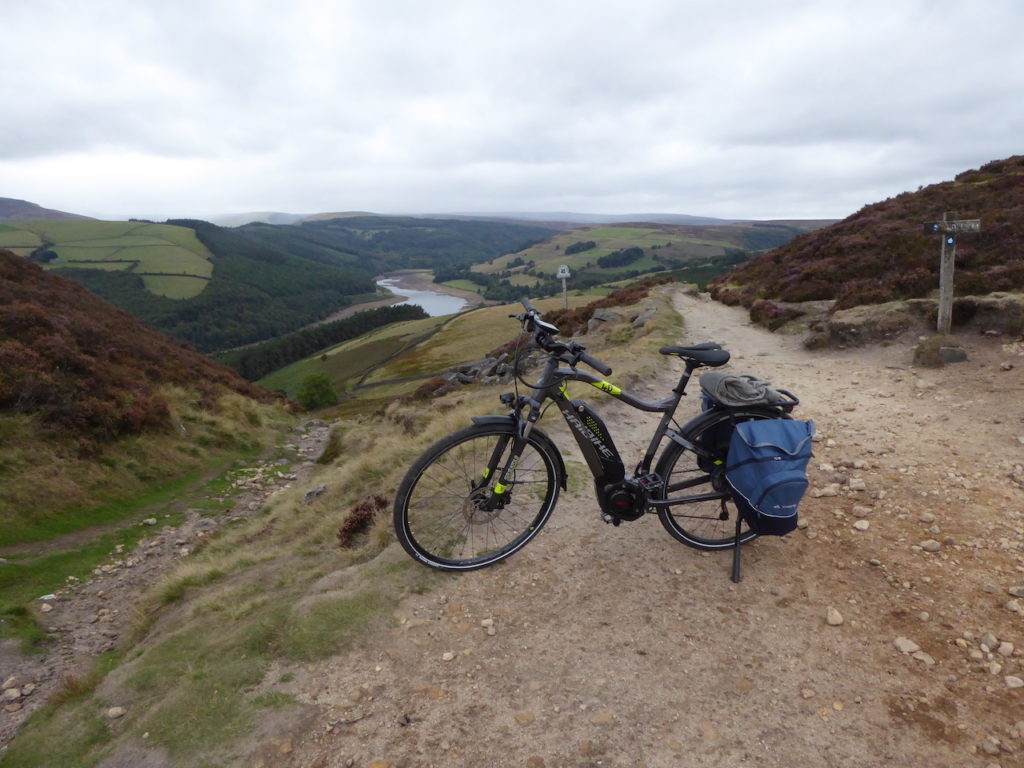 A break in the rain allows me to descend the final section of the trail, which is beautifully paved with recently laid stone setts.
I Rendezvous with My Brother at Fairholmes Visitor Centre
At Fairholmes visitor centre, my brother and I meet up. This serves as a home base for cyclists who come to explore the area. To my surprise, I discover that the National Park cycle hire centre is located here, offering a variety of Haibike emtb hardtails to choose from.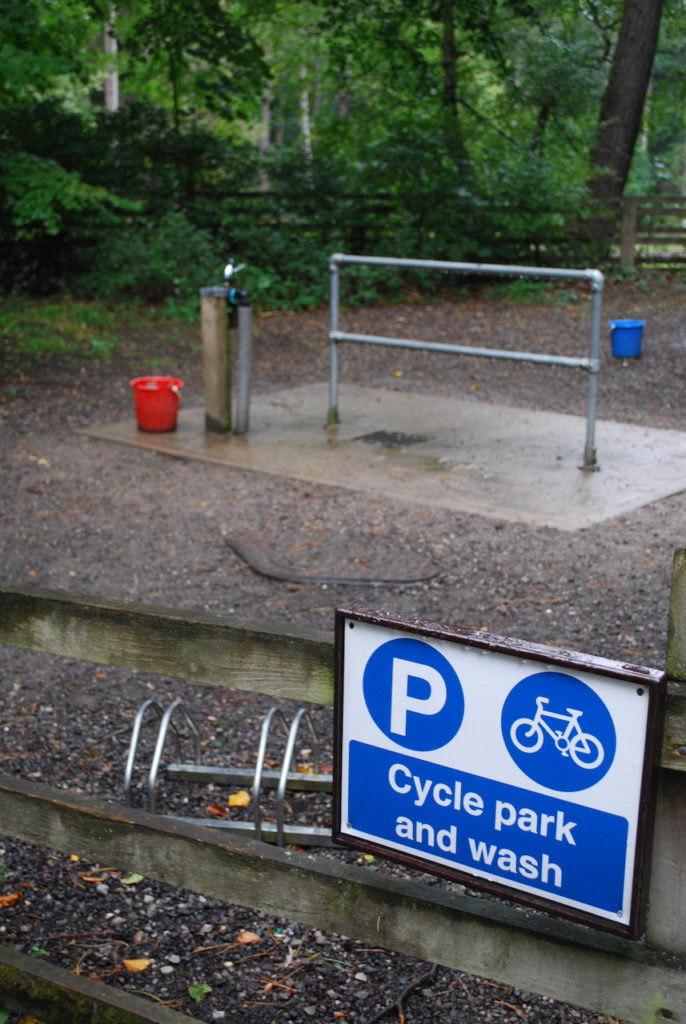 Exploring the Area Despite the Rain
Despite the persistent rain, we decide to embark on our cycling adventure. The weather prompts us to cut our ride short and call it an early day. Fortunately, the visitor centre also provides a bikewash and a cozy cafe, although we don't need these amenities today.
Enjoying the Delights of Bamford
Since we have some extra time, we take the opportunity to indulge in the delightful offerings of Bamford. We visit the Rest Cafe, which is part of the same community-owned business as the Anglers Rest pub and the village post office. It's wonderful to support such a local establishment.
Throughout our ride, we encounter various points of interest. The scenic routes around the reservoirs lead us through dense conifer woodlands. One notable spot is the site of the 'lost' village of Derwent. Additionally, we come across a memorial dedicated to Tip the sheepdog, as well as information about the Dambusters and their use of the magnificent dams in this area for practice during WWII.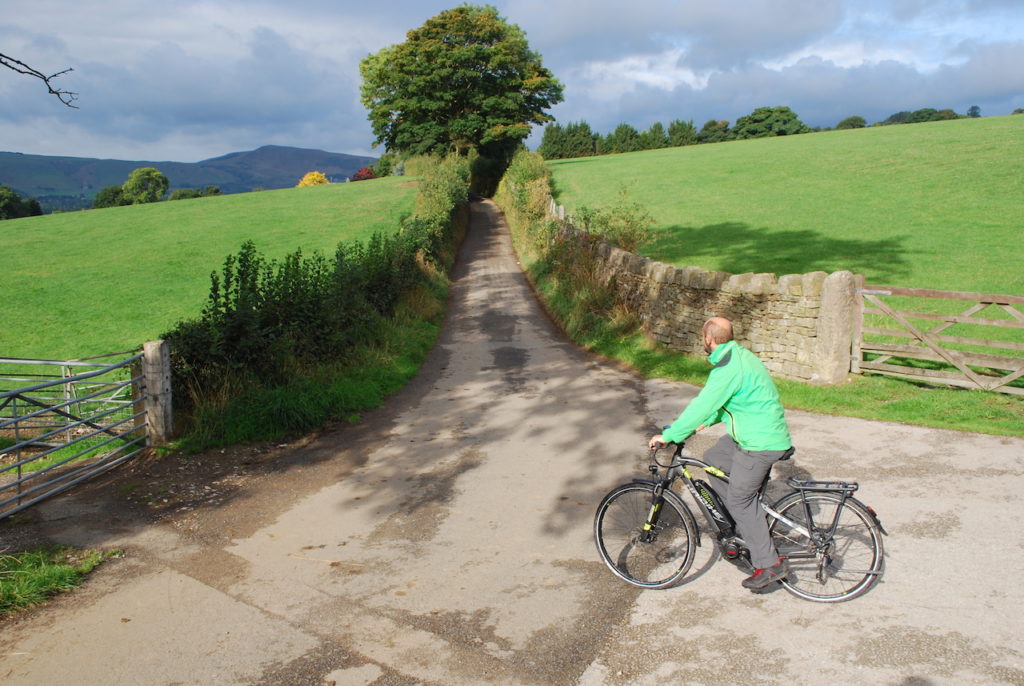 A More Ambitious Route on the Second Day
The following day blesses us with fairer weather, allowing us to embark on a more ambitious route. We decide to follow the signed Sustrans National Cycle Network Route 6 from the campsite to the picturesque village of Aston. Here, I bid farewell to my riding partner and begin an exhilarating ascent along a ridgeside ride called Hope Brink. The views over Loose Hill and the Noe Valley are truly breathtaking.
During our journey, we pass by the ancient signpost of Hope Cross, serving as a reminder that this route has a long history dating back to Roman times, and possibly even earlier. As we navigate the rocky descent, I must dismount from my bike. However, this challenge is followed by a more gentle and enjoyable section, leading us through Bridgeend Pasture and by Crook Hill, before descending back down to the reservoirs.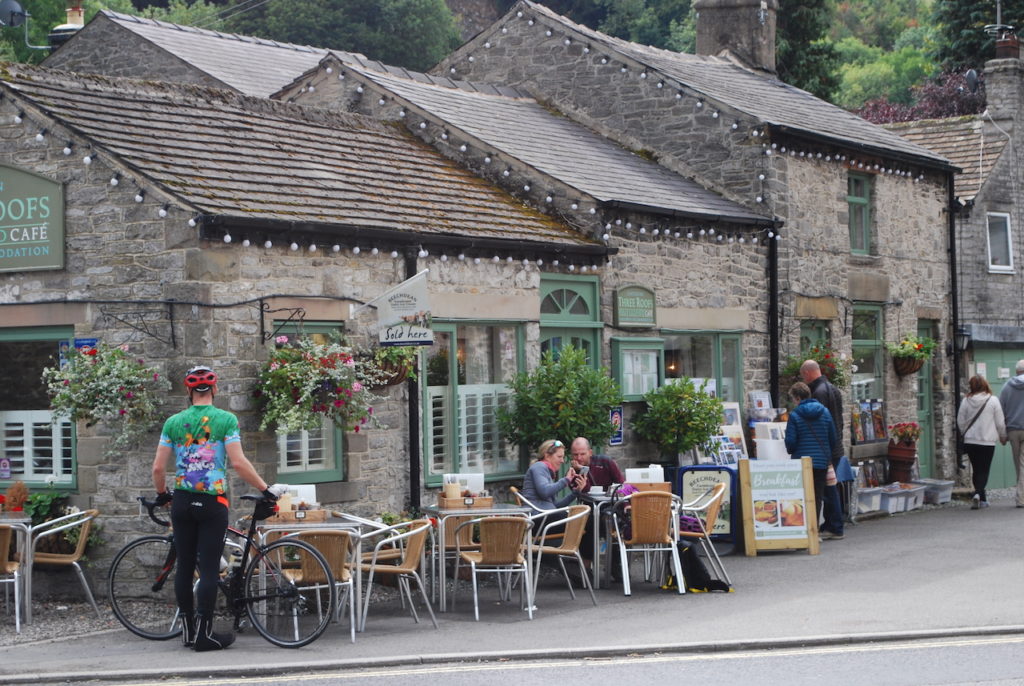 My brother went on a further west expedition along NCN route 6. He had a delightful experience on a quiet road that allowed him to discover the wonders of the picturesque village of Casleton and the nearby Peveril Castle.
The Haibike
The Haibike Sduro Trekking 4.0 delivered exceptional performance when pulling the trailer. Its torque at low revolutions effortlessly conquered the hills around Sheffield. Additionally, its requirement of a little more pedaling effort from the rider compared to other systems made it remarkably economical in terms of power usage.
As a trail bike, my only minor complaints were the somewhat feeble walk assist feature, particularly noticeable when crossing the ford in Sheffield. For my specific journey, it would have been ideal if the tires and basic front suspension had a stronger inclination towards off-road usage. Some of the bridleways I navigated were truly suitable only for full-fledged e-mtbs and not really designed for trekking models.
When riding on the road, I found that the medium-sized frame provided a sporty riding position for fast-paced asphalt adventures. I was quite impressed with the entry-level Yamaha PW motor. Although it may not possess the sheer power of a top-of-the-line and more expensive Bosch Performance Line CX motor, it still delivered ample climbing strength when ridden spiritedly in slightly higher gears than my usual preference.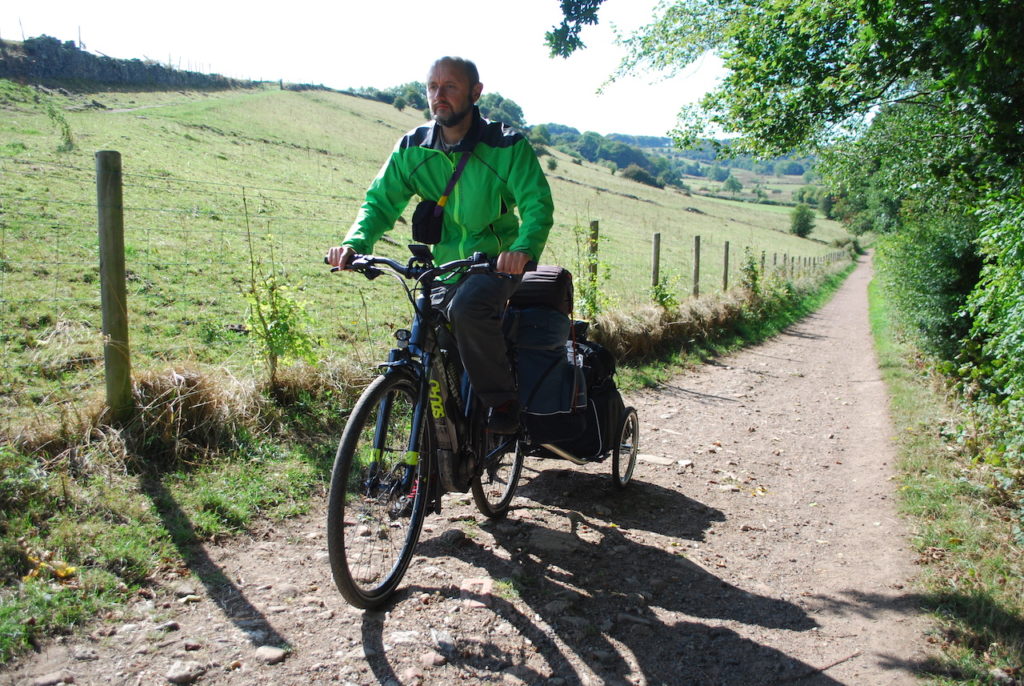 At a price of 2299 euros (approximately US$2690 or £2040) and readily available with online discounts, the Haibike Sduro Trekking 4.0 offers outstanding value as a fully-equipped e-bike. It includes LED lighting, a sturdy rack, a high-quality kickstand, and fenders.
The Gear – A Detailed Analysis
I had prepared myself for a more challenging e-bike camping trip this time, which resulted in me carrying over twice the weight compared to my previous one. The main reason for this increase was the inclusion of a larger 4-person tent, specifically the Vango Rio 400. This tent not only provided two separate sleeping areas but also had enough space to store a couple of e-bikes safely overnight. Additionally, I also brought along cooking gear and a highly efficient solar powered HUBi unit to power our devices.
Let's delve into the breakdown of the weight I carried.
RADICAL CHUBBY TRAILER (24.9kg)
– Trailer weight: 6kg
– Vango 4 man tent: 13.5kg
– Pillows x 2: 1kg
– Food: 2.4kg
– Tools and bike spares: 2kg
LARGE CAPACITY SEAGULL MESSENGER BAG (6.5kg strapped to top of trailer)
– Bag: 2.2kg
– Thermarest luxury camp mat: 2.5kg
– Sleeping bag 1: 1.8kg
VAUDE PANNIER KARAKORUM PANNIER SET (9.35kg)
– Pannier set: 1.8kg
– Cooking equipment: 1.65kg (cooker 0.6kg, cutlery & crockery 1.05kg)
– Electrics: 3.4kg (mains cable 0.7kg, Yamaha charger 1kg, HUBi solar charging 1.7kg)
– Sleeping bag 2: 0.9kg
– Paper maps: 0.3kg
– Clothing: 0.8kg
– Washkit and towel: 0.5kg
TOTAL WEIGHT HAULED: 40.75KG
Conclusions
The increase in weight was undoubtedly justified and well worth it.
The larger tent not only provided us with added comfort but also offered a crucial storage solution for our e-bikes, ensuring they remained safe and dry throughout our trip.
Having the ability to cook our own meals was not only cost-effective but also highly convenient during our camping adventure. Thanks to the exceptional HUBi solar powered battery system, our phones were charged and we enjoyed bright light during the evenings from 8pm onwards.
Despite some overcast and gloomy weather conditions, the HUBi performed admirably, with only two of its four power capacity lights showing at the end of the three days. Under sunnier conditions, it would undoubtedly have provided us with sustainable power for lighting and charging our phones, as solar panels are eight times more productive in sunny conditions compared to gloomy ones.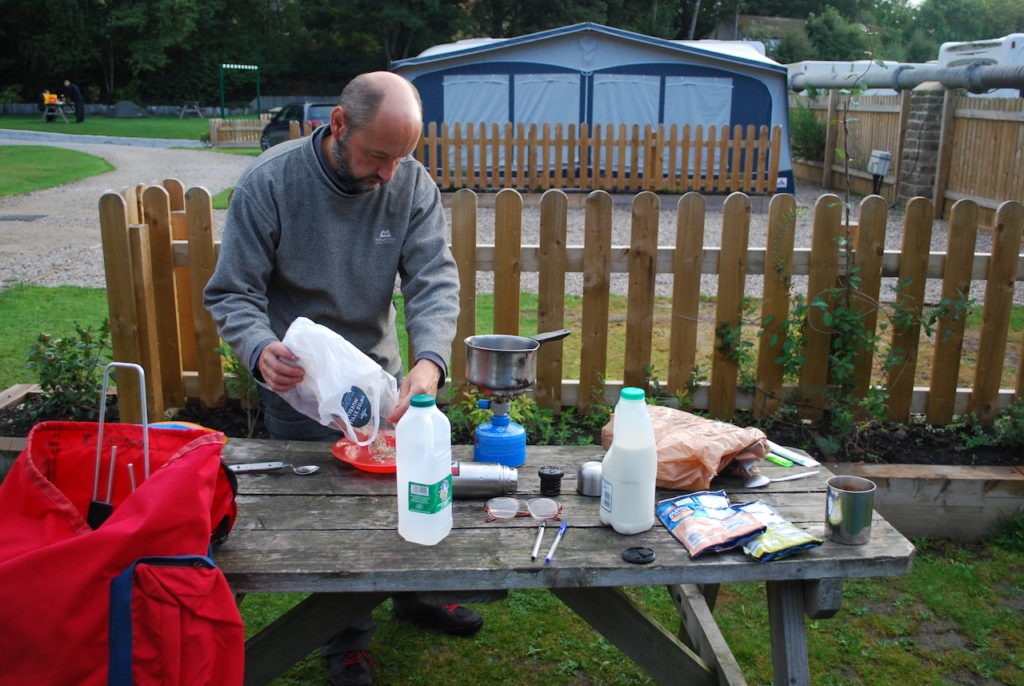 Although we charged our e-bikes using the campsite supply, having the HUBi as an additional source of electricity proved invaluable since our cable only had two three-pin sockets, each for a bike charger.
While the majority of the gear we used was retrieved from the depths of our cupboards, I aim to invest in more lightweight equipment for the next season while maintaining the same level of comfort. Keep an eye out for more details!
Here are my valuable tips for hauling an abundance of gear.
– Consider opting for a fixed base break, at least for your first trip. The more gear and weight you carry, the longer it takes to pack and unpack, and the limited your battery range becomes. This kind of heavy-duty e-bike camping is perfect for a short trip close to home, making it an enjoyable weekend. Once you've set up camp, the greater space and comfort truly come into play, allowing you to explore the area on your e-bike with less weight and over more challenging terrains.
– It's highly recommended to embark on a lengthy shake-down run with all your gear on board to ensure everything is set and to make any necessary adjustments.
– Familiarize yourself with the accessibility options at train stations, such as station lifts or ramp access to platforms. These features are invaluable, although it's worth noting that some stations in the UK only have stairs. Also, be sure to check the bike storage policy of train companies. Sufficient space and knowledge regarding reservations are crucial.
– Double-check if your chosen campsite offers electric hookup and if you have the correct charging lead. It may seem obvious, but you don't want to be left with an e-bike and a mountain of gear to haul without any power!
– Having permission for campfires at your campsite is incredibly useful, although it's not very common in the UK. During the off-season, a campfire provides warmth and illumination on colder evenings and helps save fuel when cooking. However, it does leave your cooking pans covered in black carbon, which can be quite annoying.
Once you've gained experience from a few trips like these, the possibilities for e-bike adventures are endless!
Stay tuned for more e-bike news & reviews, and thank you for reading!
-Richard